Mosquito Magnet® Executive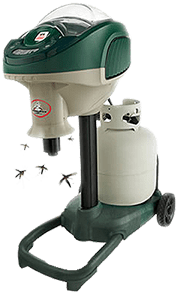 If you're looking for the best mosquito trap for larger backyards, you need to consider the Mosquito Magnet® Executive, an electric trap for mosquitoes. The Executive is a state-of-the-art electric mosquito trap that offers 1 acre of coverage and uses "Smart Technology" to protect you from mosquitoes and other biting pests!
What Is Smart Technology?
Smart Technology features an easy-to-read LCD panel and the choice of four fuel saving modes that can extend the life of the unit's propane tank for up to 30 days. Smart Technology makes the Mosquito Magnet® Executive trap the best mosquito trap for larger areas.
A Highly Effective Electronic Mosquito Trap
There are a host of additional features that make the Executive a premier mosquito trap. Since temperature is a critical factor when it comes to mosquito breeding, as mosquitoes breed when the temperature is at or above 50° F, a mosquito trap that also operates below this temperature would waste energy. The Executive is equipped with a built-in shutdown feature that will automatically power down and restart the trap as the temperature changes. This ensures your trap runs at peak performance, and you won't waste precious fuel by attempting to trap mosquitoes during times when they're less active.
Counterflow™ Technology Makes Attracting, Trapping and Killing Mosquitoes Easy!
The Executive electric mosquito also includes our patented Counterflow™ Technology in which mosquitoes are vacuumed into a specially designed net where they become dehydrated and die within 24 hours. You'll experience a dramatic reduction in the mosquito population on your property in as little as 30 days.
An Electric Mosquito Killer Featuring Cordless and Rechargeable Operation Because the Executive runs with a rechargeable battery that can hold a charge through an entire mosquito season, it offers maximum operating flexibility. You'll be able to place the unit close enough to the mosquito breeding area while still keeping it far enough away from outdoor family activity areas. With the Executive, you'll never have to worry about connecting your electronic mosquito control device to an external power source.
The Executive Receives Some of the Best Mosquito Trap Reviews
One way to determine what makes an effective mosquito trap is to take a look at what the experts have to say, and the Executive has received some of the best mosquito trap reviews. According to "Consumer Reports", for instance, electronic mosquito killer traps such as the Executive garner top reviews thanks to its quality performance. We've also received a number of reviews about these revolutionary electric mosquito traps from satisfied users.
Put Our Electric Mosquito Control Solution to Work on Your Property
You can order the Executive separately or as part of a budget-friendly bundle that includes additional mosquito nets, secondary attractant cartridges and other key accessories.
Order the Executive today and take back your yard from flying pests!
EXECUTIVE FAQS
I need to eliminate mosquitoes in an area on my property that isn't near an electrical outlet. Can the Executive meet my needs?
Yes! The Executive gives you the benefit of cordless technology, allowing you place the trap precisely where you need it. The optimal location is between the mosquito breeding ground and the area on your property where people gather.
If I don't have to plug the Executive in, where does the power come from?
The Executive is powered by a custom rechargeable battery, eliminating the need to purchase replacement batteries. The Executive also features advances diagnostics that tells you when the battery power is dwindling. A remote battery charger is also included for quick and convenient recharging.
I understand that the Executive includes a catalytic converter that transforms propane into carbon dioxide, but I'm concerned about high propane costs. How energy-efficient is the Executive?
Very! A key Executive feature is the innovative Smart Technology that includes four fuel-saving modes. You'll be able to get the most out of every propane tank refill!
How does Smart Technology reduce fuel consumption?
Smart Technology enables your Executive trap to automatically adjust to the outdoor temperature. As a result, your trap will only operate during the periods when mosquitoes are active. You won't waste propane by trying to attract, trap and kill mosquitoes when they aren't around!
Do I have to use one of the four fuel-saving modes?
Not at all! Smart Technology also gives you the option to run your trap on a 24/7 basis for maximum mosquito control during the summer months when mosquito activity is at its highest. Of course, this will also increase the amount of propane your trap uses.
What other technologically advanced features does the Executive offer?
Like all Mosquito Magnet® traps, the Executive includes the revolutionary Counterflow™ Technology to lure and vacuum mosquitoes into the trap where they become entangled in the net and die of dehydration within 24 hours. This innovative technology will help you dramatically reduce the mosquito population on your property over the course of the season.
What type of buyer protection do I get when I purchase an Executive trap?
The Executive is backed by our exclusive one-year limited warranty for your protection. You'll have the peace of mind of knowing that you're covered in the unlikely event of defects in materials or workmanship. You can also return your trap within 30 days for a refund or replacement if you are not satisfied with your purchase.
What type of customer support is available?
As a Mosquito Magnet® customer, you'll enjoy our professional Customer Support for additional product information and prompt answers to your questions.
Where can I turn if I have questions or concerns?
With our our professional Customer Support, you always have access to the help you need. A wide variety of resources are available online, and you can also reach us via telephone, email or online enquiry form