Mosquito Magnet® Independence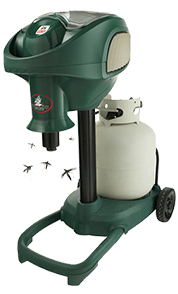 A Powerful Mosquito Killing System! Wouldn't it be great if there was an effective mosquito killing system that you didn't have to plug in? The cordless Independence mosquito trap runs on 4 'C' batteries, offering up to 1 acre of protection from mosquitoes & other biting insects. Because there is no power cord to plug in, this mosquito repeller alternative can be placed wherever you need it most!
A Mosquito "Eater" - Not a Mosquito Repeller!
Have you tried to keep mosquitoes away by using sprays, candles or homemade mosquito control remedies? These methods may provide limited mosquito control for a short amount of time, but the flying pests always seem to come back.
The Independence is not a repellent. It's a powerful mosquito defense system that attracts, traps and kills flying pests. Instead of temporarily deterring mosquitoes, Independence will reduce the mosquito population on your property by disrupting their breeding cycle.
The Benefits of a Cordless Mosquito Machine
What makes the Independence an excellent choice as a mosquito killing system for larger yards is its cordless feature; you can place it close to mosquito breeding spots while keeping it far enough away from outdoor family activity areas. As a result, you'll reduce the chance of mosquitoes invading the areas where you want them the least!
A Mosquito Defense Machine That's Easy to Use
The one-button operation of the Independence trap makes it an easy to use mosquito repeller alternative. And because assembly is a snap, you'll be able to have the Independence up and running in virtually no time at all, providing you with 24/7 mosquito protection in your backyard. You'll begin to notice results in as little as 7-10 days, with significant mosquito reduction taking place in about a month.
The Independence Is Easy to Maintain
You won't have to spend a lot of time maintaining your mosquito defense system. Routine maintenance is only required every 21 days and is simple. All you need to do is replace the mosquito net, secondary attractant cartridge and QuckClear cartridge (used to purge the propane tank nozzle). Then just refill the propane tank. Less maintenance means you'll have more time to enjoy your mosquito-free yard!
Purchase Your Effective Mosquito Killing System Today
When it comes to mosquitoes, control of these harmful pests can be accomplished easily with a quality mosquito repeller alternative like the Independence mosquito eater machine! You can purchase the Independence separately or as part of a money-saving bundle that contains everything you need, including additional nets, secondary attractant and more.
Take back your yard from these relentless, disease-carrying pests. Get the Independence today!
INDEPENDENCE FAQS
What is the power source for the Independence trap?
The Independence features cordless technology that enables it to operate on four 'C' batteries, just like the type you would use in a typical household flashlight. This gives you the ability to place this superior pest-killing machine exactly where you need it!
How often will I have to replace the batteries?
The energy-efficient Independence is design to provide extended battery life. You can go several months between battery changes, even when operating your trap 24 hours a day.
I like the fact that the battery-powered operation gives me maximum placement flexibility, but I have a very large yard. Can the Independence get the job done?
Absolutely! The Independence is effective at trapping and killing mosquitoes in an area as large as one acre. The trap begins to work immediately upon activation, and you'll begin to experience a dramatic reduction of the mosquito population on your property in as little as four weeks.
I live in a pretty harsh climate with lots of rain. Can the Independence withstand the rigors of a severe environment?
The Independence is made from heavy-duty plastics and marine-grade materials — it's built to withstand whatever Mother Nature dishes out!
Will I have to spend a lot of time taking care of my pest trap?
Not when you use the Independence to control mosquitoes and other flying pests! You'll only need to refill the propane tank and replace the drawstring net and secondary attractant cartridge every 21 days, which you can normally do in a matter of minutes. You'll have more time to spend enjoying a mosquito-free yard!
Midges present as big of a problem as mosquitoes in my region. Can the Independence help me get rid of these flying pests?
The Independence is not only effective against disease-carrying mosquitoes, but it will also help you eliminate other flying insects such as midges, black flies and no-see-ums.
What do I get when I order an Independence trap?
The Independence comes with the trap, one Octenol attractant cartridge, one drawstring net and one Quick Clear adapter, along with a product manual, instructional DVD, maintenance schedule and instruction hang tags (four 'C' batteries and propane tank not included). You can also order money-saving Independence bundles that contain two months of trap accessories.
How can I be sure that the Independence is a top-quality insect-killing machine?
The Independence is backed by our exclusive one-year limited warranty that protects you in the event of defects in workmanship or materials. And in the unlikely event you are not completely satisfied with your trap, you can return it for a refund or replacement within the first 30 days of receipt.
Where can I turn if I have questions or concerns?
With our professional Customer Support, you always have access to the help you need. A wide variety of resources are available online, and you can also reach us via telephone, email or online enquiry form.