Mosquito Magnet® Patriot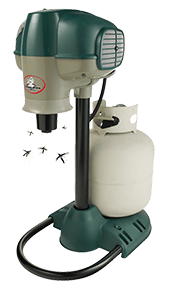 Larger yards call for a powerful mosquito fogger machine. When you buy the corded Mosquito Magnet® Patriot mosquito trap, you get up to 1 acre protection from mosquitoes and other biting insects. The Mosquito Magnet® Patriot is equipped with a 50' power cord, allowing for maximum mosquito protection over a wide area. You won't have to worry about replacing or recharging batteries multiple times during the peak mosquito season.
An Extremely Powerful Mosquito Vacuum
What makes this 1 acre mosquito trap such an effective electric mosquito machine is that is works as a powerful mosquito attractant. The Patriot's patented CounterFlow™ Technology, which emits a steady flow of carbon dioxide, heat and moisture that mimics human emissions, lures the mosquitoes into the mosquito vacuum. The pests become caught in the mosquito vacuum's mosquito net, where they die from dehydration within 24 hours.
The 24/7 automatic operation means the Mosquito Magnet® Patriot trap acts as a continuous mosquito defense machine throughout the mosquito season. By disrupting the breeding cycle of flying pests, our mosquito fogging machine will provide a dramatic reduction of the mosquito population — protection that lasts all season long.
Mosquito Machines Shouldn't Be Difficult to Use
An effective mosquito zapper shouldn't be a hassle to operate, which is another reason why you'll love the Patriot. After completing the easy three-step assembly process, simply plug in the 12-volt power cord to an electrical outlet. Place the mosquito fogger machine in an area that's near the mosquito breeding ground but far enough away from family activity areas, and secure the cord with accompanying lawn clips. Press the start button and begin to enjoy the outdoor mosquito control your family deserves! Trap maintenance is also a breeze — just replace the net, secondary attractant and QuickClear cartridge and refill the propane tank. With easy regular maintenance every 21 days, you'll be fully protected all season long!
A Mosquito Fogging Machine Backed by Extensive Research and Testing
Our one-of-a-kind mosquito fogger is the product of nearly two decades of research and more than 15 patents. With Mosquito Magnet®, you're getting the most technologically advanced mosquito control solution available on the market today. Independent testing has also verified the effectiveness of the Patriot. Mosquito Magnet® traps really work.
Order Your Mosquito Magnet® Patriot Today!
You can purchase this revolutionary mosquito fogging machine separately or as part of a money-saving bundle that includes additional nets, secondary attractant and more. Don't let mosquitoes, midges, black flies, no-see-ums or other flying pests overtake your yard and ruin your outdoor fun. Order your Mosquito Magnet® Patriot trap today!
PATRIOT FAQS
What makes the Patriot different from other Mosquito Magnet® traps?
The Patriot is our only trap that does not operate via battery power. Instead, it comes with an extra-long 50' power cord that enables you to plug the trap into any electrical outlet. It's also our lowest-priced trap, making it the perfect mosquito-killing machine for budget-conscious property owners.
How large of an area can the Patriot cover?
The Patriot is designed to kill mosquitoes over a wide area. You'll experience a dramatic reduction of the flying insect population in an area as large as one acre!
Is the Patriot equipped with Counterflow™ Technology?
Of course! Like all Mosquito Magnet® traps, the Patriot features our revolutionary Counterflow™ Technology that has been scientifically proven to attract, capture and kill mosquitoes with maximum efficiency. This effective mosquito-killing technology is the result of nearly two decades of research and testing.
Is the Patriot difficult to set up/use?
Not at all! Just follow the easy three-step assembly process, plug the 12-volt power cord into an electrical outlet and press the start button. Your trap will then provide a reliable, long-term mosquito-killing solution throughout the season!
Where should I place my Patriot trap?
For best results, place your trap in an area between the mosquito breeding ground on your property and the location where people congregate. Be sure that the trap is approximately 30 to 40 feet away from human activity.
Do I have to purchase Patriot accessories separately?
The Patriot trap comes with one rigid net to get you started. Secondary attractants can be purchased separately. By purchasing a bundle that includes additional nets, attractants and much more, you can save 10% when compared to purchasing accessories separately. Plus, you won't have to worry about running low during the peak mosquito season!
Which secondary attractant should I use with my Patriot?
The best secondary attractant depends largely on the region in which you live. Octenol is ideally suited for northern and coastal U.S. regions and Canada. R-Octenol is also an effective mosquito killer in northern and coastal regions, while providing the added benefit of lasting up to 40% longer. Lurex3™ is the best choice for the southern U.S. where the dreaded Asian Tiger mosquito poses a significant health threat.
Does the Patriot come with any type of warranty?
Yes! As a Patriot owner, you're covered by our exclusive one-year limited warranty that protects you in the unlikely event of defects in materials or workmanship. You can purchase a Patriot trap with total peace of mind!
Where can I turn if I need prompt and reliable product assistance?
Our professional Customer Support is available whenever you need it. You can find many answers to your questions online, as we offer a wide range of valuable resources you can access quickly and easily. You can also contact our customer support via telephone, email or online enquiry form.